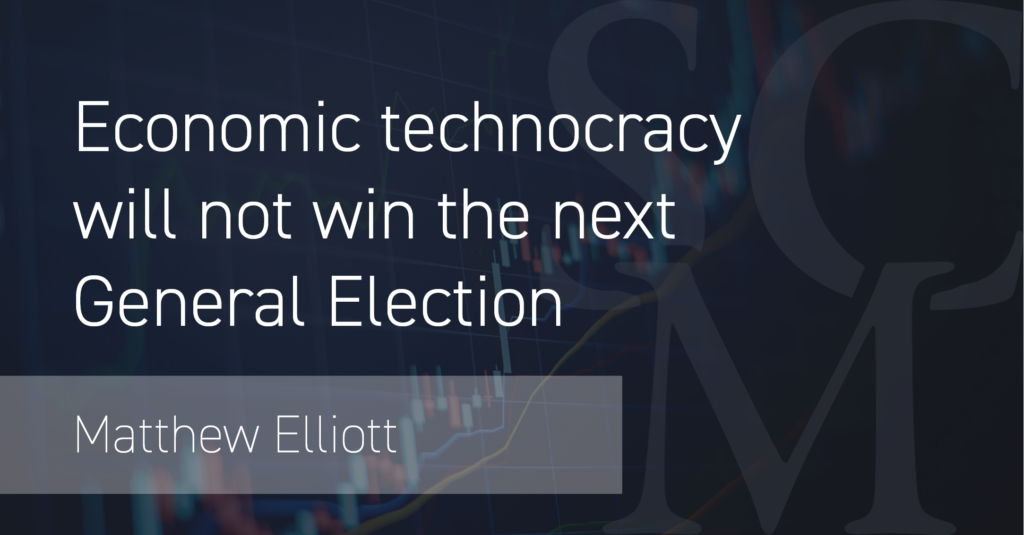 Economic technocracy will not win the next General Election
One of the features of Italian politics is that technocrats are periodically invited to form a government, particularly after periods of upheaval. The latest such Prime Minister was Mario Draghi, who was asked by the Italian President Sergio Mattarella to abandon his post-European Central Bank retirement (where he had earned the nickname 'Super Mario') to form a government of national unity. His government lasted a little over a year (February 2021 to July 2022), but it brought a period of calm and stability to Italian politics which lasted until his administration collapsed earlier this year over a proposed energy support package.
Delivering his Autumn Statement yesterday, Jeremy Hunt exuded strong Mario Draghi vibes. Handsome, well dressed, articulate and clearly spoken, the Chancellor delivered a sober and statesmanlike plan for the economy that could easily have been delivered by the likes of Draghi or Mario Monti (a former European Commissioner and Prime Minister of Italy from 2011 to 2013), had they been drafted in to calm the UK financial markets in October. In contrast to Kwasi Kwarteng's Growth Plan, this was a 'Plan for a Stronger Economy', and it will undoubtedly deliver stability. The big question is whether it will deliver growth, and that is a problem for the Government politically.
As Rachel Reeves, Labour's Shadow Chancellor, pointed out, the key question that voters will ask themselves at the next General Election is "Are me and my family better off with a Conservative Government?" According to Reeves, the average worker is earning less today than when the Conservatives came to power in 2010. And in the assessment of the Autumn Statement released by the Office for Budgetary Responsibility yesterday, Real Household Disposable Income per person is predicted to fall more than 7% over the next two years – the biggest fall on record – taking incomes down to 2013 levels.
So what is the Government's plan for economic growth? How do they intend to make future generations richer than the current ones – something we once took for granted but is no longer the case. After all, with the economy being 0.7% smaller than it was before the pandemic (the UK is the only G7 country which hasn't fully bounced back), and with the economy now officially in recession, there is clearly some catching up to do.
Hunt's plan for growth has three pillars: energy, infrastructure and innovation. On energy, the focus is on energy independence (renewables, nuclear) and energy efficiency (reducing consumption) – both worthy objectives. On infrastructure, rather than being tempted to balance the books by cutting capital expenditure, the Government will continue the transport and telecoms plans unveiled by Boris Johnson. And on innovation, they aim to "turn Britain into the world's next Silicon Valley", by using the opportunities provided by Brexit to drive a supply side transformation.
All this is worthy, but it is also highly technocratic. And the appointment of the Government's Chief Scientific Adviser, Sir Patrick Vallance, to head up the regulatory review is emblematic of this approach. Does it reinforce their desire for stability? Absolutely. Does it suggest a real desire to go for growth? Less so. With the tax burden set to rise to the highest sustained level since WW2, and predicted to hit 37.1% of GDP in 2027-28 according to the OBR, this does not signal economic dynamism. It almost feels that having veered too far in the direction of appearing to give unfunded tax cuts, the Government has veered too far the other way, towards big, technocratic government.
Nothing in the Autumn Statement is wrong, it just feels unambitious. It is right for the Government to find NHS efficiencies, and it is politically smart to bring in Patricia Hewitt, a former Labour Secretary of State for Health, to lead the efficiency review, but will she wield an axe or a scalpel? It will be interesting to see, for example, whether she suggests big changes, such as making consultants work weekends, to make the most of NHS assets and clear backlogs. After all, busy factories don't just operate Monday to Friday. Similarly on the question of getting people back to work, to address the additional 630,000 economically inactive working age adults post-Covid, the Chancellor talked about asking them "to meet with a work coach". This is laudable, but it won't provide as much incentive as improving the Universal Credit taper rate would. Both these policies feel technocratic, rather than ambitious.
As Reeves observed, from a political perspective, the success of Rishi Sunak's economic policy will be whether people feel that their personal prosperity is best served by a Labour or Conservative government. The Autumn Statement puts Britain on the course for stability, but stable decline is neither right for the country nor a successful political strategy. If people feel poorer in 2024 than they did in 2010, they are unlikely to give the Government a historic fifth term in office.
That said, the OBR's forecast for economic growth should not breed complacency on the Labour benches, nor complete despondency on the Tory side. As our Vice Chairman Dr Clive Black correctly pointed out in his analysis of the Autumn Statement ('Economic implications of Hunt's Budget – the long haul', 17 November 2022), the OBR has a comically poor track record for economic forecasting. Perhaps they have been overly pessimistic once again. Perhaps Ukraine will emerge victorious, inflation will come down sooner than expected, and the Government's fiscal headroom will be greater than the OBR's predictions, allowing them to claim credit for guiding the UK economy through recession and back to growth. Perhaps. But even if this is the case, it should be remembered that Ken Clarke's successful management of the UK economy in the early-mid 1990s didn't deliver electoral success in 1997.
But there is also a lesson for the Labour Party. Financial markets are now quite clearly paying close attention to fiscal policy. As we get closer to the General Election, Labour might be tempted to make unfunded spending promises. This would be a mistake. Seeing as they are likely to propose at least some additional spending in their election manifesto, this will need to be paid for, and with Hunt having utilised all the additional revenue from fiscal drag, any additional spending will require higher taxes, and I am increasingly certain that the Labour Party will propose a wealth tax, sending out yet another signal to investors that Britain isn't open for business. This would put an even bigger damper on economic growth, so I hope they avoid it, and work within the current spending envelope.
My overall assessment of the Autumn Statement is grim. The growth outlook for the UK is dire, additional steps still need to be taken to address the energy crisis, and if the Pound weakens too quickly, Gilts will soon become a problem once again.
When Jeremy Hunt became Chancellor, an ally told the media that he would do "whatever it takes to reassure the markets", and joked that he would be "Jeremy Draghi". Mario Draghi lasted a little over a year as Italy's Prime Minister. Rishi Sunak needs to do more for economic growth if he is to exceed his record. Having stabilised the markets, the Spring Budget must focus on how to achieve economic growth. That is both right for the economy, and right politically.
Matthew Elliott, Senior Political Adviser