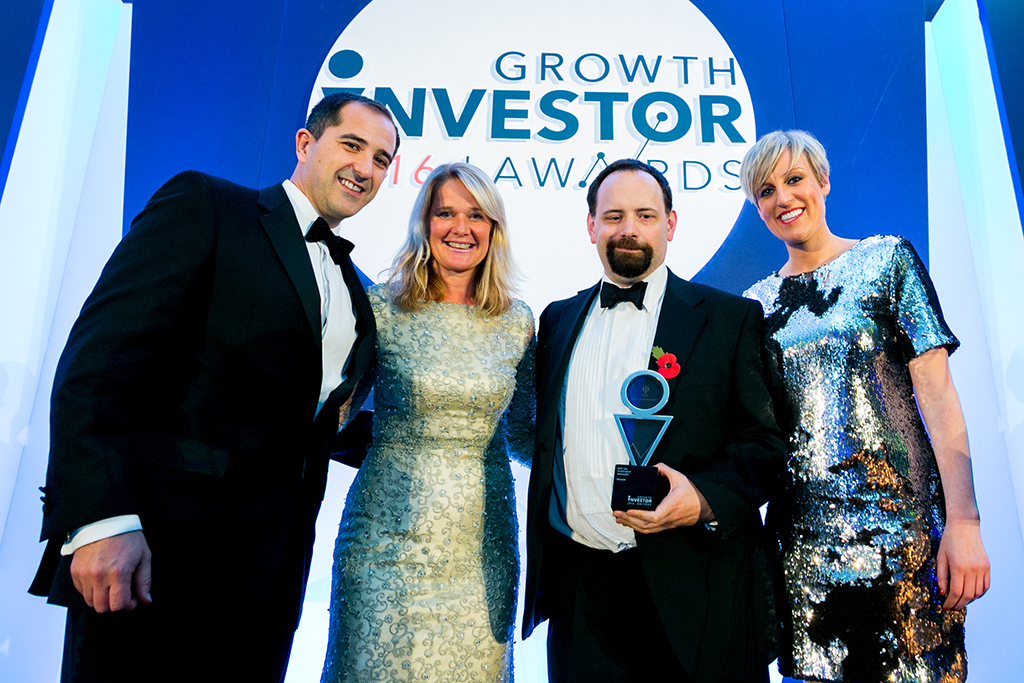 Puma Investments Crowned Best AIM Investment Manager at 2016 Growth Investor Awards
• PUMA Investments, chosen over Close Brothers, Guinness Asset Management, and Unicorn.
• Visit growthinvestorawards.com for details of all winners and runners-up

Thursday 3 November saw more than 400 industry professionals come together at the Marriott Grosvenor Square Hotel, Mayfair for the second annual Growth Investor Awards, organised by Intelligent Partnership. The awards were created to recognise innovation and impact in UK investment management, to highlight the importance of venture capital schemes and the industry's contribution to job growth and wealth creation, and to honour all those involved in putting investment to work in small and medium-sized enterprises (SMEs).
Opening the event, Guy Tolhurst, managing director of Intelligent Partnership said: "Whether you're a financial planner recommending alternative investments, an investment provider investing in growth businesses, or one of the many service providers who make this industry tick. You're all part of the same ecosystem. And together you're supporting entrepreneurs in putting growth capital to work and helping some fantastic businesses to thrive."
Broadcaster Steph McGovern and comedian Mark Watson presented awards across 14 different categories. The ceremony included a scene-setting film about growth capital and also featured keynote speeches from Iain Wright, MP and Lord Karan Bilimoria CBE.
PUMA Investments scooped the highly coveted Best AIM Investment Manager prize at the 2016 Growth Investor Awards. The award was presented to PUMA Investments by 2016 Industry Champion winner, Sam Smith.
The award was open to any investment manager with an AIM Venture Capital Trust, Enterprise Investment Scheme or an AIM Inheritance Tax Portfolio Service. The winner was judged on portfolio performance, investee selection, efforts to champion the Alternative Investment Market product development and adviser outreach. PUMA Investments fought off strong competition from a shortlist that included Close Brothers, Guinness Asset Management and Unicorn.
Daniel Kiernan, research director at Intelligent Partnership, explained why the judging panel selected PUMA Investments: "Puma were praised by the judges as an 'innovative house with good adviser engagement'. Their status as an AIM-listed company themselves, with significant experience as a broker and NOMAD was also noted."
Commenting on the award, Justin Waine, Investment Director said: "Puma Investment's unique stock selection process searches the AIM market for unappreciated growth and hidden value. It takes advantage of the diverse investment opportunities on the AIM to seek long term investment returns together with potential inheritance tax benefits. I am delighted that the judges have recognised not only our excellent investment performance, but also Puma Investments' wider contribution to promoting AIM."
The night also featured keynote speeches that highlighted the importance of companies using tax advantaged venture capital schemes to help them scale up quickly, as well the need to support SMEs that are creating jobs, generating tax revenue and helping to drive Britain's economic recovery.
Iain Wright, MP for Hartlepool and Chairman of the Business, Innovation and Skills Select Committee, said: "Venture capital initiatives like the EIS, SEIS and the Angel Co Fund are good. They should not be tinkered with, but instead widely promoted and become a truly stable if not permanent part of the access to finance ecosystem." Lending his weight to the campaign, "I hope that the Growth Investor Awards can continue to scale up, to go from strength to strength and show the positive impact that the SME investment community is having in generating growth, jobs and wealth."