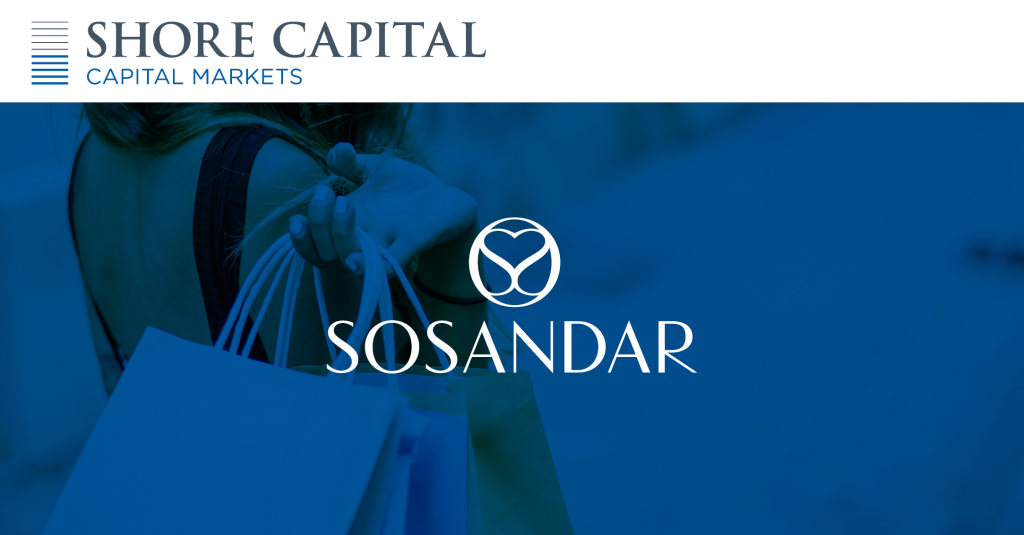 Shore Capital acts as Nomad and Sole Bookrunner on placing for Sosandar plc

Shore Capital is pleased to have acted as Nomad and Sole Bookrunner for Sosandar Plc ("Sosandar") on a placing of new Ordinary Shares that successfully raised £7 million.
The Ordinary Shares were priced at 15 pence per new Ordinary Share, a 3.4 per cent premium to the closing mid-market price on 10 July 2019.
The placing, which was significantly oversubscribed by both new and existing shareholders, will enable Sosandar to support working capital expansion in the business, and enable further expenditure on new customer acquisition. This follows a strong financial results announcement on 3 July 2019, where the company reported, inter alia, a 228 per cent increase in revenue and a 224 per cent growth in orders.
Sosandar is an online womenswear brand, specifically targeted at a generation of women who have graduated from throwaway fashion and are looking for quality, affordable clothing with a premium, trend-led aesthetic. This is a section of the market that is currently being underserved.
Full announcement available here.
For more information, please contact:
For media enquiries, please contact:
Note to editor
About Shore Capital
We are an independent securities business offering institutional and corporate clients leading investment banking, research, sales and trading services, including fixed income.  We are represented across the UK enabling extensive distribution and institutional coverage. This distribution capability is complemented by our experienced corporate advisory and broking team who offer discreet, innovative and valued advice to companies on both the Main Market and AIM.  Shore Capital is also the 3rd largest market maker by number of AIM stocks covered.
Our cross-disciplinary team has deep, market leading experience in a wide range of small and mid-cap UK companies within the following sectors: Consumer, Financials, Healthcare, Insurance, Natural Resources, Real Estate, Support Services, Technology and Media. Our research on over 250 companies is distributed to an extensive institutional client base in the UK and Europe.
Shore Capital is a trading name of both Shore Capital Stockbrokers Limited and Shore Capital and Corporate Limited.