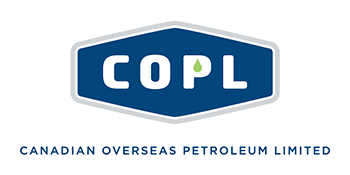 Shore Capital appointed UK Broker to Canadian Overseas Petroleum Limited
Shore Capital are delighted to have been appointed UK Broker to Canadian Overseas Petroleum Limited
MKT CAP CIRCA £18.7 million
COPL is dual listed on the TSX Venture Exchange and the standard segment of the Main Market of the LSE, having been admitted to trading in London in April 2014.
The Company have also announced the closing of the second tranche of a private placement of $7.1m which, in addition to the previously announced first (UK) tranche of £800,000 in which Shore Capital introduced a number of investors, gives a gross aggregate funding of $8.6m.
Overview of the Company
The Company is an independent international oil and gas exploration and development company focused on sub-Saharan offshore Africa. The Company holds a 17 per cent. working interest in Block LB-13, offshore Liberia, with ExxonMobil Liberia ("ExxonMobil"), the operator, holding an 83 per cent. working interest. The Block LB-13 joint operator agreement ("JOA") provides that ExxonMobil will pay COPL Bermuda's participating interest share of the costs, expenses and liabilities charged to the joint account under the Block LB-13 JOA of drilling the first exploration well up to the first US$120 million of gross drilling costs committed under the Liberian PSC.
The Company has also formed a joint venture company with Shoreline Energy International Limited ("Shoreline"). Assets acquired through this joint venture company are held in a special purpose vehicle registered in Bermuda, Shoreline CanOverseas Petroleum Development Corporation Limited ("ShoreCan"). COPL and Shoreline each hold a 50 per cent. interest in ShoreCan. ShoreCan is currently building a portfolio of exploration and development assets in sub-Saharan Africa. ShoreCan currently has a position in Namibia and continues to evaluate a variety of assets in Nigeria and Equatorial Guinea.
Shoreline, the Company's joint venture partner, is a conglomerate with interests across sub-Saharan Africa including interests in oil and gas and power generation.
Offshore Liberia
The Company's first property in West Africa is offshore Liberia in Block LB-13 in which the Company has a 17 per cent. interest. ExxonMobil holds the remaining 83 per cent. of Block LB-13 and is the operator.
Block LB-13 covers an area of approximately 2,540 sq. km. The Company has a licence to 2,023 sq. km of long offset 3D seismic that was shot in 2010 to evaluate the oil potential of deep-water Cretaceous analogous to the recent deep-water oil discoveries offshore Ghana and Sierra Leone. Reviews of the seismic data conducted internally by the Company, and externally by DeGolyer and MacNaughton ("D&M"), have identified the potential for a number of Cretaceous turbidite sand stratigraphic traps on Block LB-13.
Farmout agreement
The Block LB-13 joint operator agreement ("JOA") provides that ExxonMobil will pay COPL Bermuda's participating interest share of the costs, expenses and liabilities charged to the joint account under the Block LB-13 JOA of drilling the first exploration well up to the first US$120 million of gross drilling costs committed under the Liberian PSC (which may be carried over to further costs expenses and liabilities charged to the joint account under the Block LB-13 JOA to the extent that the first exploration well costs less than US$120 million), and, save for certain on-going payments under the Liberian PSC, COPL Bermuda's costs, expenses and liabilities charged to the joint account under the Block LB-13 JOA up to release of the rig for the first exploration well, as well as costs, expenses and liabilities charged to the joint account under the Block LB-13 JOA thereafter (up to US$1 million).
Recent developments in relation to Block LB-13 include the Company and ExxonMobil carrying out technical work which has added substantially to the geologic model of Block LB-13. The Company and ExxonMobil have also mapped and identified new prospects on Block LB-13.
Recent History
In February 2016, ExxonMobil informed the Company that the length of the extension period granted by the National Oil Company of Liberia ("NOCAL") has been set at a total of 619 days and that the second exploration period timeframe has been extended until 25 September 2017. This extension was a result of the "State of Emergency Agreement" between NOCAL and ExxonMobil due to the Ebola crisis in Liberia. The exact timing of the well will be dependent on rig availability and when ExxonMobil can confirm third party contractors' capability to operate in Liberia.
Other assets
Nigeria
On 17 August 2015, ShoreCan agreed to an acquisition in Nigeria, subject to the approvals of the Nigerian regulatory authorities, to acquire 80% of the issued share capital of a Nigerian oil company which holds 100% of the equity and titled interest of an oil appraisal and development project offering near term oil production, located in the Niger Delta province, offshore Nigeria. The transaction also provides that ShoreCan will take over management and operatorship of the asset. A nominal consideration to this company of $250,000 is being held in escrow until completion of certain conditions which remain outstanding.
Namibia
On 20 February 2015, ShoreCan entered into a commercial acquisition, ratified by the Ministry of Energy in Namibia, of an 80% interest in three blocks offshore Namibia. ShoreCan is to be the operator and will meet 100% of the exploration costs for the blocks 1708, 1709 and 1808 in the Namibe Basin. Situated north of the Walvis ridge on the Namibian/Angolan border, they are deepwater blocks on which ShoreCan will commence geological and geophysical evaluations.
Equatorial Guinea
On May 27, 2015, ShoreCan signed a memorandum of understanding ("MOU") on Equatorial Guinea Block EG-18 with the Minister of Mines, Industry and Energy ("MMIE") in Malabo, Equatorial Guinea.
Board
Harald Ludwig – Non-Executive Chairman
Mr Ludwig has over 30 years of extensive business and investment experience, including as President of Macluan Capital Corp. (a diversified private equity investment company) and as a member of the Board of Directors of Lions Gate Entertainment Corp. (NYSE). He is also a Director of West Fraser Timber Co. Ltd. (TSE) and is Chairman of its Compensation Committee, a member of its Governance and Conflicts Committee and former Chairman of its Audit Committee, and is a Director of Seaspan Corp. (NYSE). He is a founding partner or private equity investor in a number of North American and international private equity firms, hedge funds, mezzanine lenders, growth capital providers, distressed investment firms and real estate investment vehicles. Mr Ludwig also serves as a member of the advisory board of Tennenbaum Capital Partners, LLC.
Arthur S. Millholland, P.Geol – President and Chief Executive Officer
Mr Millholland has been the President and CEO of the Company since August 2009. Prior thereto, Mr Millholland was a Director and the President and CEO of Oilexco from 1994 until July 2009. He has been a Professional Geologist for 30 years. Mr Millholland has worked in a variety of regions including the UK North Sea, Canada, the Gulf of Mexico, the United States, South America, and West and North Africa. He is a member of the Association of Professional Engineers Geologists and Geophysicists of Alberta, and the American Association of Petroleum Geologists. He is a graduate of the University of Waterloo where he obtained an Honours Bachelor of Science degree in Earth Science.
Viscount William Astor – Non-Executive Director
Viscount Astor is an independent businessman and politician who sits as an elected hereditary peer in the House of Lords. He was previously a director of Networkers International Plc, a global recruitment consultancy listed on AIM, specialising in telecommunications, information technology, financial markets, energy and engineering, ERP and managed services and projects (since 2007) and a previously director of Tavistock Investments plc, a company listed on AIM, engaged in the development of a social networking platform SocialGO. Viscount Astor is a director of a number of private companies in the UK and has been deputy chairman of Silvergate Media Ltd. since 2011. Prior to that, Viscount Astor was Deputy Chairman of Chorion Plc, a media company, which owned, managed, and developed family entertainment brands in the UK (from 1977 to 2011).
Massimo Carello – Non-Executive Director
Mr Carello has over 30 years of international senior management and board level experience, who in the past five years has served as an independent businessman working as a consultant and managing his own investment portfolio. He was a director of Uranium One Inc. from June 2007 to December 2010. Mr Carello has been a director of Orsu Metals Corp. since September 2008, and a director of Canaccord Genuity Group Inc. since August 2008. Prior thereto, Mr Carello served as a director of Urasia Energy Ltd. from November 2005 to April 2007, and a non-executive director of Anker plc from 2004 to 2005. From June 2001 to June 2004, Mr Carello served as President and CEO of Diners UK Ltd. Prior to this, Mr Carello started his career in 1972 in pan- European automotive manufacturing with Lucas Industries PLC. From 1980 to 1990, Mr Carello was the Managing Director of Carello Group SpA. The company became the third largest European headlamp producer before being sold to the Fiat Group. After the sale to Fiat he was appointed Chairman and CEO of Fiat UK from 1990 to 2001. Mr Carello is a Knight Commander of the Royal Order of Francis I of the Two Sicilies, and has a degree in Political Science from the University of Turin.
John Cowan – Non-Executive Director
Mr. Cowan, a petroleum geologist, was been involved in the Canadian oil and gas industry for 38 years. In this period he has founded two Canadian junior exploration and production companies. Currently Mr. Cowan is a director of Dundee Energy Ltd, a TSX listed Canadian oil and gas company, and a founding shareholder of Xtivity Inc. a closely held Web Architected, Maintenance Inventory Optimization firm with a Fortune 100 client base.