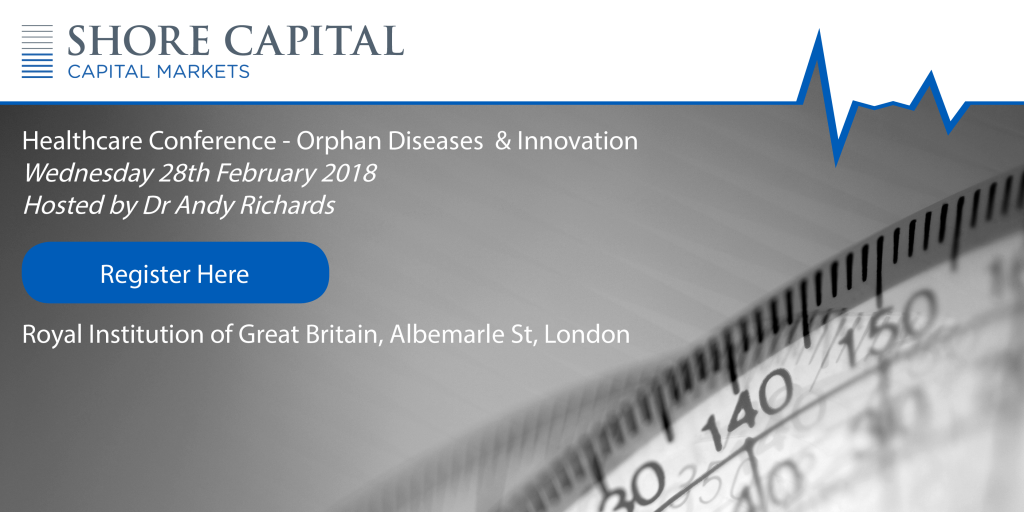 Shore Capital Half-Day Healthcare Conference Invitation
Please note that this Conference is considered by Shore Capital to be an acceptable minor non-monetary benefit under COBS 2.3A.19 as a consequence delegates will not be charged to attend or present at the conference.
Overview
We are providing an excellent opportunity for professionals and investors in the healthcare sector to hear from and meet exciting companies in the Orphan and Rare Disease Markets. The conference will be hosted by Dr Andy Richards, CBE, at the Royal Institution of Great Britain on the 28th February.
There will also be an excellent line up of speakers from AstraZeneca, Oxford Biodynamics, Orchard Therapeutics, Amryt Pharma, Silence Therapeutics, Vernalis and more.
Event Details
Date: Wednesday 28th February 2018
Time: 8.30am for a 9:00 am start, finish at 12:30 pm followed by a buffet lunch
Venue: The Royal Institution of Great Britain, 21 Albemarle Street, London, W1S 4BS

Host:

Dr Andy Richards, CBE

Dr Richards is an entrepreneur specialising in healthcare and life sciences. He is currently Chairman of Arecor Limited, Congenica Limited, Abcodia Limited and Novacta Biosystems Limited as well as being a Director of Silence Therapeutics plc, Ieso Digital Health Limited and Sensiia Limited. He was a founder of Chiroscience Group plc and an executive director through its merger with Celltech plc in 1999.

Speakers From:

Amryt is a commercial stage pharmaceutical company focussed on developing and delivering innovative treatments that help improve the lives of people with rare diseases. They are building an exciting portfolio of proprietary medicines for rare diseases which currently comprises a marketed asset for the treatment of a rare form of inherited high cholesterol and a product in Phase 3 for the treatment of the genetic skin disorder Epidermolysis Bullosa.

AstraZeneca is a UK-listed global pharmaceutical company with a strong presence in Respiratory, Diabetes and Oncology. After a period of transition, marked by key patent expiries, Astra is entering a period of growth, led by a number of recently launched products in Oncology.

Morgan Prestwich is Europe's leading independent Life Sciences Executive Search and Advisory firm specializing in European commercialization.

Orchard Therapeutics is a biotechnology company and dedicated to transforming the lives of patients with rare disorders through innovative gene therapies. Their programmes will use the potential of ex-vivo autologous haematopoietic stem cell gene therapy to restore normal gene function in severe and life-threatening inherited disorders.

Oxford BioDynamics is an AIM-listed biotechnology company pioneering the use of 3D genome architecture as a novel class of epigenetic biomarkers to support and enhance the drug development process. Based on technology and IP developed at and subsequently spun out of Oxford University, the company's proprietary EpiSwitchTM platform allows for the identification of a distinct set of systemic blood-derived biomarkers in response to a specific patient stratification question and can be used in a predictive (who will respond?), diagnostic (who is responding?) and prognostic (whose clinical condition will develop in a particular way?) and residual disease monitoring (who will relapse and at what rate?) capacity.

Silence Therapeutics is a biotechnology company that develops gene therapeutic technology based on RNA interference. The company uses its proprietary technology platform to develop RNAi therapeutics for the treatment of serious diseases.

Vernalis is a UK-listed commercial-stage pharmaceutical company which through a 2012 licensing agreement with Tris Pharma has exclusive rights to a portfolio of proprietary extended-release products for the US prescription cough/cold market. The first product from this collaboration Tuzistra®XR is FDA-approved and now on the US market. In addition, Vernalis has a leading fragment and structure-based drug discovery business in Cambridge, UK. The 60-strong research group is self-financing, with a number of ongoing collaborations and has generated the lead molecules for Nasdaq-listed Verona Pharma (RPL554) and Corvus (V81444).
This event will be hosted by Shore Capital Stockbrokers Limited (FCA no. 124784) which is authorised and regulated by the Financial Conduct Authority. The registered address of Shore Capital Stockbrokers Limited is Bond Street House, 14 Clifford Street, London, W1S 4JU.