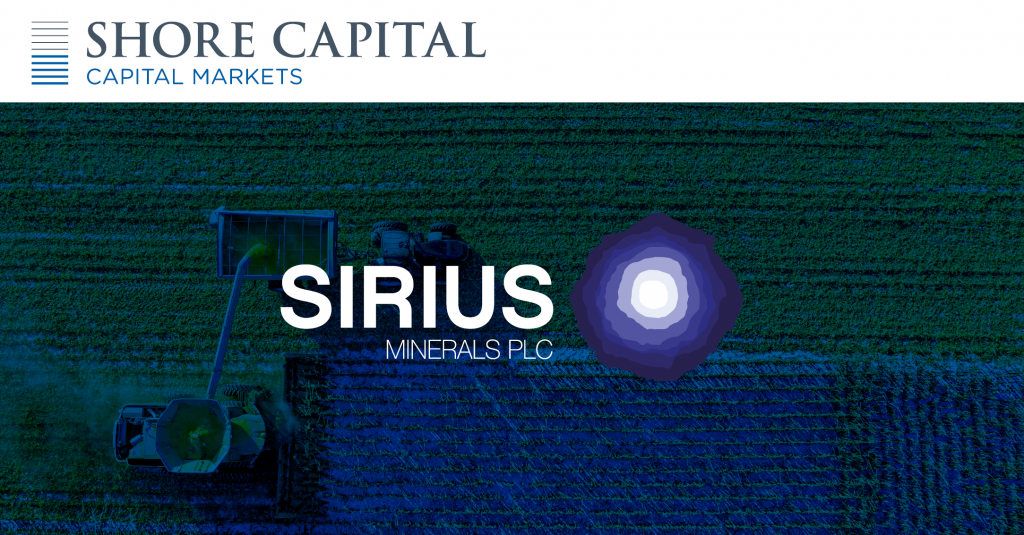 Shore Capital Markets acted as Lead Manager in the Placing & Open Offer for Sirius Minerals Plc

Shore Capital Markets acted as Lead Manager in the Placing & Open Offer for Sirius Minerals Plc which, together with other financing, has raised a total of US$3.8bn for its Stage 2 development.
Shore Capital Markets is delighted to have acted as Lead Manager in the US$425m Placing and Open Offer, alongside the US$400m convertible bond and US$500m high yield debt and US$2.5bn revolving credit facility, raising a total of $3.8bn of development capital for Sirius Minerals' Potash Project in North Yorkshire. Shore Capital Markets previously acted as Co-Lead Manager in the £370m Placing and Open Offer forming part of the US$1.2bn Stage 1 funding in 2016.
More information here: https://www.londonstockexchange.com/exchange/news/market-news/market-news-detail/SXX/14058442.html
For further information please contact:
Shore Capital Markets: +44 (0) 20 7408 4090
Corporate Broking
Corporate Advisory
For media enquiries, please contact:
Jono Taylor: +44 (0)20 7079 1663
Notes to Editors
About Shore Capital Markets
Shore Capital Stockbrokers Limited and Shore Capital and Corporate Limited (together "Shore Capital Markets"), a division of the Shore Capital Group, provide institutional and corporate clients leading investment banking, research, sales and trading services, including fixed income. We are represented across the UK enabling extensive distribution and institutional coverage. This distribution capability is complemented by our experienced corporate advisory and broking teams who offer discrete, innovative and valued advice to companies whose securities are traded on the Main Market or AIM or who are seeking such admission. Shore Capital Stockbrokers Limited is also one of the largest market makers in the London market; the 3rd largest market maker on AIM by number of registered securities.
Our cross disciplinary teams have deep and market leading experience in a wide range of sectors covering: Consumer, Financials, Healthcare, Natural Resources, Real Estate, Support Services, Technology, Media and small and mid-cap UK and Irish companies. Our research on over 200 companies is distributed to an extensive institutional client base in the UK, USA, Ireland and the Nordic region.
https://www.shorecapmarkets.co.uk/
About Sirius Minerals
Sirius Minerals Plc (LSE: SXX) is a UK based fertilizer development company focused on the development and operation of its polyhalite project in North Yorkshire.
Through the development of its North Yorkshire polyhalite project, Sirius Minerals will become a world leading producer of polyhalite, a unique multi-nutrient fertilizer containing potassium, sulphur, magnesium and calcium.