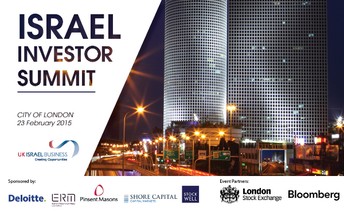 Shore Capital sponsors Israel Investor Summit 2015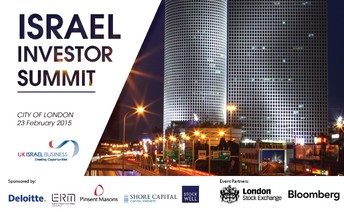 City of London
23 February 2015
08:15 – 14:00
Shore Capital are delighted to sponsor this half-day Summit for Insitutional Investors, Funds and larger Family Offices. The Summit is the must-attend conference for institutions contemplating investmnet in Israeli IPO's on the London Stock Exchange and serves as a forum for existing investors in Israel.
The Summit will be followed by a networking lunch and registered confirmed investors can request 1:1 meetings with participating companies in the afternoon.
The event is organised by UK Israel Business in conjunction with our partners the London Stock Exchange & Bloomberg, and sponsors: Deloitte, Epstein Rosenblum Maoz (ERM), Pinsent Masons, Shore Capital and StockWell Communications.
Keynote speaker:
– Professor Leo Leiderman, Chief Economist, Bank Hapoalim
Speakers include:
– Xavier Rolet, London Stock Exchange
– Gal Haber, Plus500
– John V Millar, London Stock Exchange
– Guy Feld, Hargreave Hale
– Richard Penny, Legal & General
– Ofer Druker, Matomy
– Ran Goldstein, Crossrider
– Hagai Tal, Marimedia
– Ory Weihs, XL Media
– Tal Brener, GetTaxi
Panels include:
– Why Israel IPO's in London are back in fashion
– What are institutional investors looking for from growth businesses?
– Demystifying the new world of digital advertising
– The next generation of IPO's
For further information, please see the agenda on the Summit website.