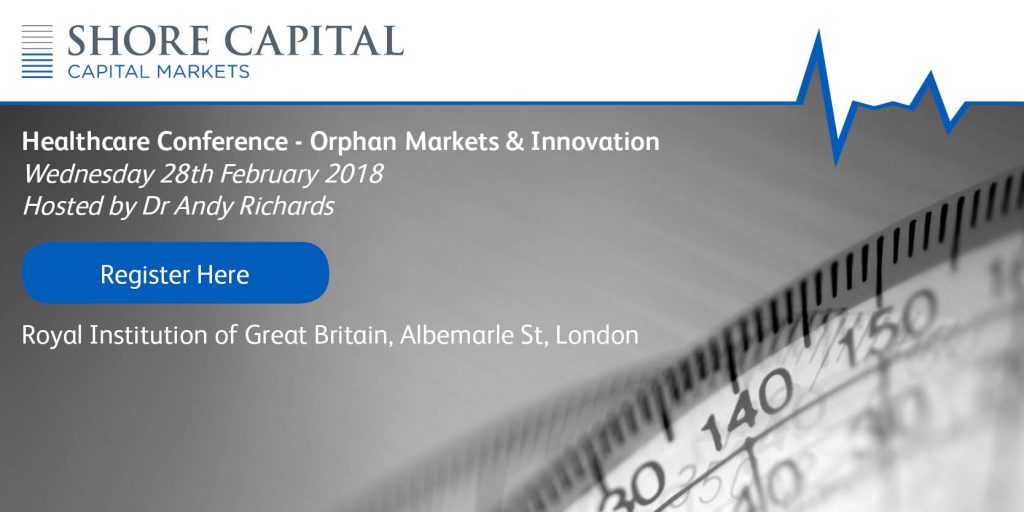 Speakers announced for Shore Capital Healthcare Conference
Please note that this Conference is considered by Shore Capital to be an acceptable minor non-monetary benefit under COBS 2.3A.19 as a consequence, delegates will not be charged to attend or present at the conference.
We are proud to announce the agenda and list of speakers for the Shore Capital Healthcare Conference on the 28th of February 2018, hosted by Dr Andy Richards CBE, at the Royal Institution of Great Britain. We are providing an excellent opportunity for professionals and investors in the healthcare sector to hear from and meet thought leaders in the Orphan and Rare Disease Markets.
If you are yet to register for this event please click the link below to secure one of the last remaining spots.
Event Details
Date: Wednesday 28th February 2018
Time: 8.30 am for a 9:00 am start, finish at 12:30 pm followed by a buffet lunch
Venue: The Royal Institution of Great Britain, 21 Albemarle Street, London, W1S 4BS (Google maps)

Agenda
09:00

Introduction

Andy Richards CBE, PhD

Andy is an entrepreneur specialising in healthcare and life sciences. He is currently Chairman of Arecor Limited, Congenica Limited, Abcodia Limited and Novacta Biosystems Limited as well as being a Director of Silence Therapeutics plc, Ieso Digital Health Limited and Sensiia Limited. He was a founder of Chiroscience Group plc and an executive director through its merger with Celltech plc in 1999.

Session 1: Orphan Markets – The Opportunities & Challenges

09:15

Cancer as an Orphan Disease

Susan Galbraith, PhD

Susan joined AstraZeneca in 2010 as Head of Oncology and has played an instrumental role in the development of both Lynparza, a first in class PARP inhibitor, and Tagrisso. Susan also co-leads the Cambridge Cancer Centre Onco-Innovation group and is a Non-Executive on the Board of Horizon Discovery PLC and on the Scientific Advisory Board of the ICR Cancer Research Centre of Excellence. Prior to AstraZeneca Susan worked at Bristol Myers (2001-2010). Susan trained as a clinical oncologist in the UK.

09:40

Finding the right patient

Alexandre Akoulitchev, PhD
Alexandre read mathematics, physics, chemistry, biochemistry and biophysics at Moscow Institute of Physics and Technology. In 1989 he was selected by the George Soros Foundation for the Oxford Scholarship. Alexandre obtained his PhD from University College London and spent six years at the Robert Wood Johnson Medical School-UMDNJ. Alexandre co-founded Oxford Biodynamics in 2007 to develop his pioneering work on DNA epigenetics. Alexandre is a Fellow of the Royal Society of Medicine and is currently a Non-Executive Director of Sibelius Limited.

10:05

A Billion Dollar Decision: To launch or licence in Europe?

Sean Morgan-Jones
Sean Morgan-Jones is the Global Vice President of Business Development at Morgan Prestwich, an Executive Search and Advisory firm who focus primarily on European team builds for Biotechs focused on Rare Diseases and looking to commercialize their pipelines. Sean graduated from University College Swansea and started his career in various roles within Pharma including Clinical and Commercial and spent 12 years on the board of the Pharma industry's leading trade and media organization.

Session 2: Emerging UK Opportunities in Orphan Disease

10:45

Gene Therapy at the fore

Mark Rothera
Mark brings 28 years of experience in the biopharmaceutical industry. Prior to Orchard Therapeutics, Mark served as Chief Commercial Officer of PTC Therapeutics where he helped transition the company from a privately funded, R&D biotech to a public, commercial stage company with a 47 country commercialisation footprint. Mark served as Global President of Aegerion Pharmaceuticals Inc. and VP and General Manager of commercial operations at Shire Human Genetic Therapies for Europe, Middle East and Africa. Mark received an M.A. in Natural Sciences from Cambridge University and an MBA from INSEAD.

11:10

Innovating in Orphan Disease

David Allmond
David is a passionate pharmaceutical professional, with a particular interest in strategic marketing. He has a multi-national leadership background and in recent years has focused on commercialization for medicines for rare/orphan diseases. Prior to Amryt, David held senior roles at Aegerion and Celgene. David was appointed to the board of Myeloma UK in 2015 and Honours degree in Microbiology from Imperial College, London.

11:45

Fireside discussion

Moderated by:

Annalisa Jenkins, MBBS FRCP

Annalisa is a life sciences thought leader with over 20 years of biopharmaceutical industry experience. Prior to joining Silence Therapeutics in October 2017, Annalisa served as president and CEO of Dimension Therapeutics, a gene therapy company that was acquired by Ultragenyx. Previous leadership roles have included the head of global research and development and executive VP global development and medical at Merck Serono, and several senior positions at Bristol Myers-Squibb. Earlier in her career, Annalisa was a medical officer in the British Royal Navy. Annalisa is a board member of several growing companies, including Ardelyx, iOX Therapeutics, Thrombolytic Strategies, Oncimmune, Cocoon Biotech, Cellmedica, and Vium.

Ali Mortazavi

Ali joined Silence in 2012, initially serving as Head of Strategy, and lead the refinancing and refocusing of the business- He has extensive expertise in UK small companies, particularly in biotechnology and technology investments and ventures. Ali has over 17 years experience in finance having co-founded Evolution Securities in 2001. Ali is an International Master of chess and has written numerous books and publications on chess openings and strategies.

Prof. Rod Hubbard

Rod has been an academic at York for over 35 years working with methods for analysis and exploitation of protein structure. He developed molecular graphics and modelling methods in the 1980s and helped build Structural Biology at York during the 1980s and 1990s. In 1997, he was a founding SAB member of what became Vernalis. Since 2001 he has split his time between Vernalis (fragment and structure-based drug discovery) and York (fragment methods for chemical biology and industrial biotechnology).
This event will be hosted by Shore Capital Stockbrokers Limited (FCA no. 124784) which is authorised and regulated by the Financial Conduct Authority. The registered address of Shore Capital Stockbrokers Limited is Bond Street House, 14 Clifford Street, London, W1S 4JU.