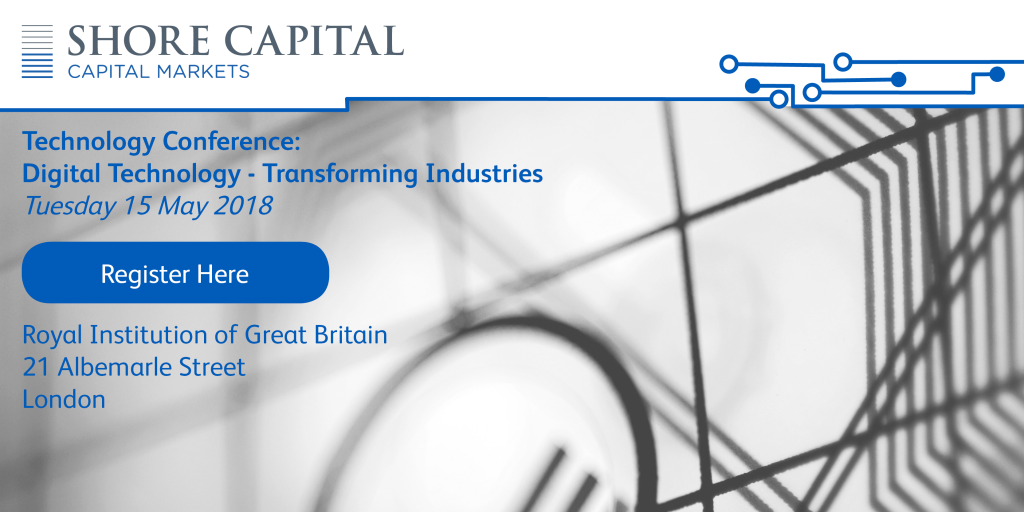 Technology Conference
The Technology Conference is being organised by Shore Capital Stockbrokers Limited. We have considered that the event, based on rationale detailed in the disclaimer, should be capable of qualifying as an acceptable minor non-monetary benefit under COBS 2.3A.19. As a consequence, delegates will not be charged to attend or present at the conference unless you deem otherwise.
We are looking forward to hosting the Shore Capital Technology Conference on Tuesday 15 May. We thought you might like the agenda and list of speakers before the big day.
In order to secure your place at the conference please click the registration button below. Please be aware that spaces are limited.
Place: Royal Institution of Great Britain, 21 Albemarle St, London (Google Maps)
Date: Tuesday 15 May 2018
Time: 8:30 am for a 9:00 am start
Finish – 12:20 pm followed by a buffet lunch
Overview
Shore Capital is hosting a half-day technology conference on Tuesday 15 May 2018. The conference is an excellent opportunity to hear from and meet technology companies transforming industries alongside the views of those involved in advising and investing in these disruptive technology companies.
09:15 – Technologies that will Redefine all Industries
Philip Sparks


Senior Business Partner,

Arm Holdings
Philip is Senior Business Partner at Arm Ltd, a subsidiary of SoftBank Group Corp (TYO 9984). After starting his career as an engineer for the UK Ministry of Defence, Philip spent fifteen years working as an analyst in the City, first at HSBC James Capel, and later at Evolution Securities. Philip joined Arm's investor relations team in 2013 and now leads financial strategy and planning in Arm's Embedded and Automotive business.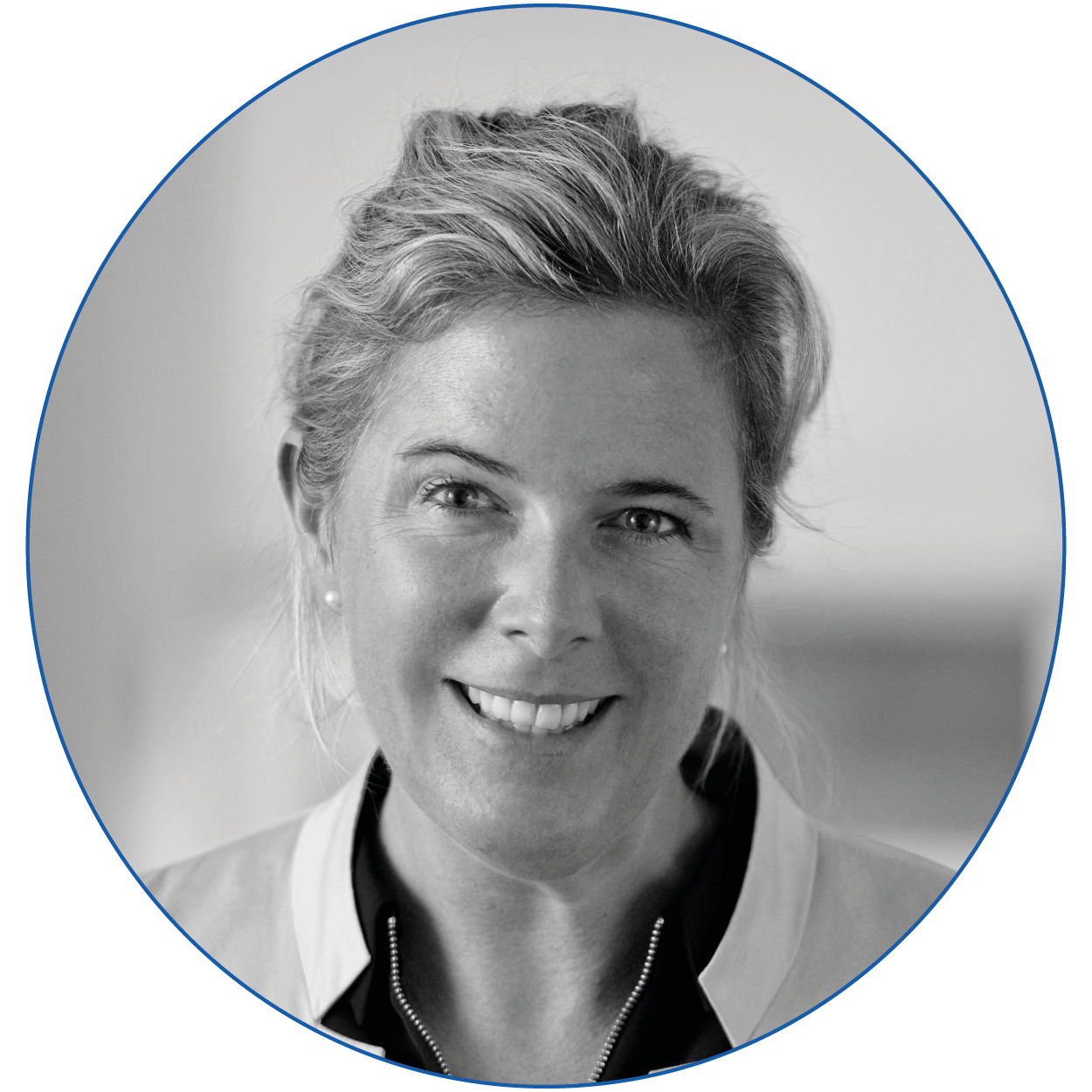 Inken Braunschmidt


Chief Innovation and Digital Officer – Industrial IoT, Halma
Inken joined Halma plc in July 2017 to lead the safety, health and environmental technology group, as Chief Innovation and Digital Officer and member of Halma's Executive Board. This new role is pivotal for Halma and signals an ambition to improve how technology and digital services can be developed and shared across the group. She is creating and connecting an innovation and digital ecosystem for Halma and its companies to build partnerships and foster convergence and collaboration. Before joining Halma, Inken was the Chief Innovation Officer of innogy SE, a renewable energy company based in Essen, Germany and subsidiary of the German company RWE. She started and led the innovation and digital transformation for the whole RWE Group with a customer and people-centred approach. She started her career as strategy and management consultant, leading the internal management consultancy of RWE at that time. Inken studied Innovation & Technology Management at Kiel University (including a PhD in Technology Management) and Finance at the London Business School.
10:05 – Space Tech Venture Capital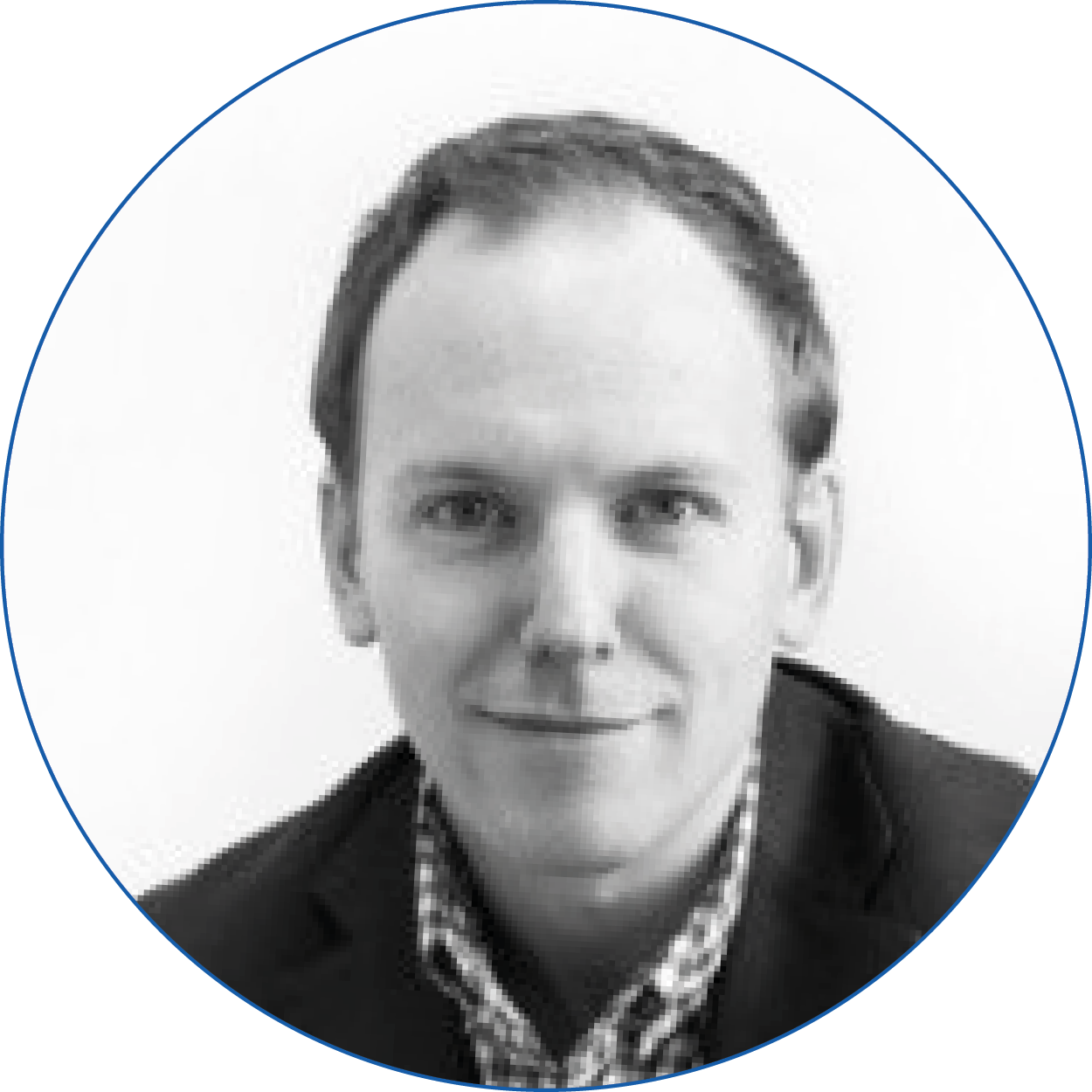 Conor O'Sullivan


Investment Manager, Seraphim Capital
Conor is responsible for deal sourcing, investment due diligence and portfolio company support at Seraphim Capital's latest fund, the $90m Seraphim Space Fund – the world's only venture fund dedicated to investing in space start-ups. Prior to Seraphim, Conor worked with close to 100 space and drone start-ups during his time as Head of Business Strategy at the Satellite Applications Catapult, a technology and innovation company set-up by the UK Government to drive economic growth through the development of satellite applications. Conor also completed an internship with Space Angels Network, a global network for angel investors in the private space industry. Before his post-graduate studies, Conor spent five years in the Prime Brokerage departments of two global investment banks. Conor holds a First Class Honours degree in Business and Economics from the University of Dublin, Trinity College and an MBA from the University of Oxford. He is also an Associate Member of the Royal Aeronautical Society and holds a private pilot's license, flying single and multi-engine aircraft in the US and Europe.
10:45 – Transforming the Consumer Delivery Experience
Andy Hill


Sales Director, Sorted
Andy has over 15 years of hands-on retail and logistics industry experience, having held senior leadership roles at both Collect+ and Metapack. He's an expert in all things B2C and the delivery experience. He's also passionate about the power of tech and innovation in the retail industry for finding the solutions to retail challenges.
11:10 – Early Stage Deep Science Tech VC – why bother?
Achim Hoffmann


Tech Venture Builder & Investor, IP Group
Achim has been working in the entrepreneurial tech sector for more than 15 years initially as Founder and then as Deep Science Tech Investor and Business Builder for IP Group. He looks after IP Group's broad Early Stage Tech portfolio, mostly University Spin-outs. He launched his career at a German Fraunhofer Institute where he got involved in a wide range of industrial tech R &D projects. Later he joined McKinsey & Company initially in the Düsseldorf and then the London Office as a strategy consultant. Achim received his Engineering Diploma and Dr Degrees from Universities in Karlsruhe (KIT) and Dortmund, Germany. He also holds an MBA from Kellogg.
Jonathan Simnett


Director, Hampleton
Jonathan Simnett is a director at Hampleton Partners, an international Mergers and Acquisitions advisory firm for companies with technology at their core and has been involved in the enterprise technology business for over three decades, managing and turning around existing business and helping management and their investors in fast-growth technology segments to grow, manage change, enter markets, transfer technologies, acquire, merge and exit. Hampleton's experienced deal makers have built, bought and sold over 100 fast-growing tech businesses worth billions and now provide hands-on expertise and unrivalled advice to tech entrepreneurs and their investors who are looking to accelerate growth and maximise value.
This Technology Conference is being organised by Shore Capital Stockbrokers Limited (FCA no. 124784), which is authorised and regulated by the Financial Conduct Authority. As this conference is freely and publicly open to analysts from investment firms and other investors; capable of enhancing the quality of service provided to the client; of a scale and nature that it could not be judged to impair the firm's compliance with its duty to act honestly, fairly and professionally in the best interests of the client; is reasonable, proportionate and of a scale that is unlikely to influence the firm's behaviour in any way that is detrimental to the interests of the relevant client; and hospitality is of a reasonable de minimis value, it should be capable of qualifying as an acceptable minor non-monetary benefit pursuant to COBS2.3A.19 R. If your own evaluation of the event is such that you consider you have received a material benefit and should pay for the corporate access, please advise us and we will raise an invoice accordingly.
The registered address of Shore Capital Stockbrokers Limited is Bond Street House, 14 Clifford Street, London, W1S 4JU.