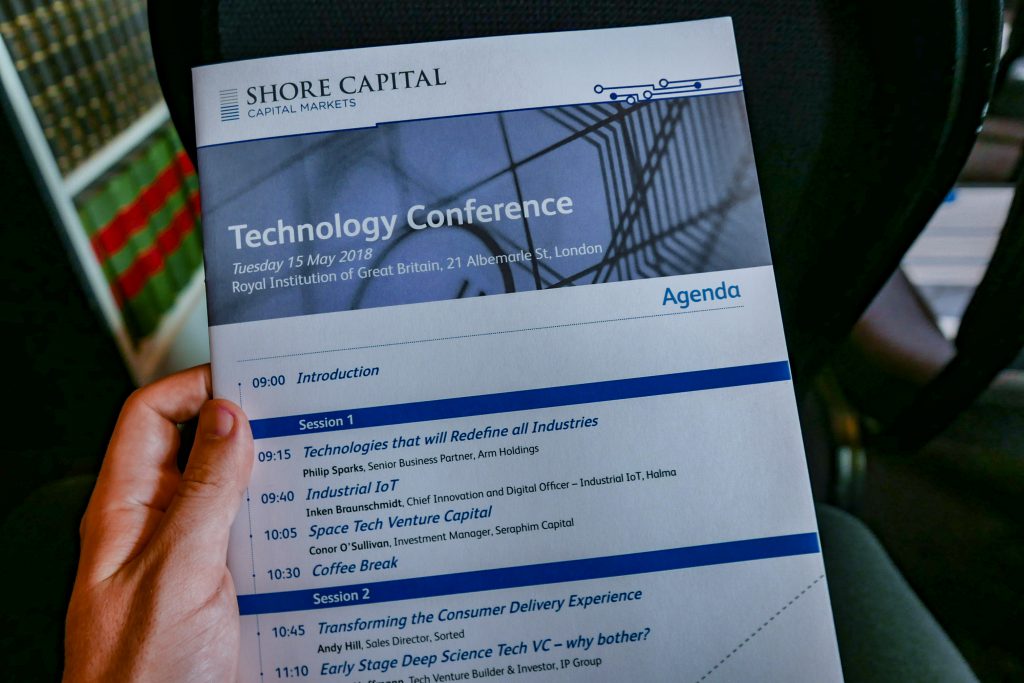 Shore Capital Technology Conference – Session Highlights

On the morning of Tuesday, the 15th of May Shore Capital hosted its technology conference focussed on digital technology and how it is transforming industries at the Royal Institution, London. The conference brought together thought leaders from leading UK companies in the space, investors, and professionals and provided a forum to highlight the challenges and opportunities in the UK technology market.
Session Highlights
Our host and Shore Capital Technology Analyst, Martin O'Sullivan PhD, kicked off with a great overview on technology investing, why every industry must now embrace technology and how the 4th Industrial Revolution is fundamentally different from what has gone before. A link to his presentation is here.
In a session from ARM Holdings, Phil Sparks, Senior Business Partner, astutely described how technology adoption boosts productivity, how ARM is working towards a future in which Artificial Intelligence in every device could increase revenues and efficiency across all industries and how as the cost of data falls, the opportunity for Internet of Things expands.
Halma's Chief Innovation Officer, Inken Braunschmidt, then focussed in on how best to manage innovation in a world where the Industrial Internet of Things is increasingly leveraging Cloud computing, Big Data and Artificial Intelligence. She spoke eloquently about growing a safer, cleaner, healthier future for everyone, every day.
Conor O'Sullivan of Venture Capital firm Seraphim Capital then explained why Seraphim is excited about its space-tech focussed VC fund and the myriad opportunities they are seeing following on from a 100x decrease in the economics of space. As an example, satellite functionally that once cost >$1bn and weighted 2,800kg can now cost <$100k and weigh just 5kg.
After coffee, Andy Hill, Sales Director, Sorted, gave a first-hand account of the phenomenal strides his innovative company is making in transforming the consumer delivery experience. He highlighted how Sorted's SaaS platform, developed in house, is enabling clients to compete with an Amazon delivery experience allowing customers to decide what the perfect delivery looks like.
Achim Hoffman a seasoned IP commercialisation executive and currently Technology Venture Builder at IP Group then took to the podium in an animated and insightful talk about the challenges of commercialising Deep Science Technology, with the support of 15 university partners. He highlighted the potential valuation upside from early stage investing, with one portfolio company having delivered >70x return on investment since 2014.
To close, was a refreshingly frank assessment of how many companies are using M&A to buy innovation and the multiples they are paying. The talk was given by Jonathan Simnett of Hampleton Partners. Tech companies are generating mountains of cash which needs to be put to use and there are new entrants in the tech sector with money to spend. He gave an overview of valuations and the top buyers of Automotive tech, Industry 4.0, E-commerce, Healthtech, IT Services, Fintech and Enterprise software.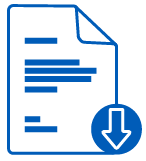 Click on the icon to download a brochure with more information
Technology Team
Technology Equity Analyst

Head of Corporate Broking

Director, Corporate Advisory

Technology Equity Analyst

Tech & Support Services Analyst

Director, Corporate Advisory
This Technology Conference was organised by Shore Capital Stockbrokers Limited (FCA no. 124784), which is authorised and regulated by the Financial Conduct Authority. As this conference was freely and publicly open to analysts from investment firms and other investors; capable of enhancing the quality of service provided to the client; of a scale and nature that it could not be judged to impair the firm's compliance with its duty to act honestly, fairly and professionally in the best interests of the client; is reasonable, proportionate and of a scale that is unlikely to influence the firm's behaviour in any way that is detrimental to the interests of the relevant client; and hospitality is of a reasonable de minimis value, it should be capable of qualifying as an acceptable minor non-monetary benefit pursuant to COBS2.3A.19 R. If your own evaluation of the event was such that you consider you have received a material benefit and should pay for the corporate access, please advise us and we will raise an invoice accordingly.